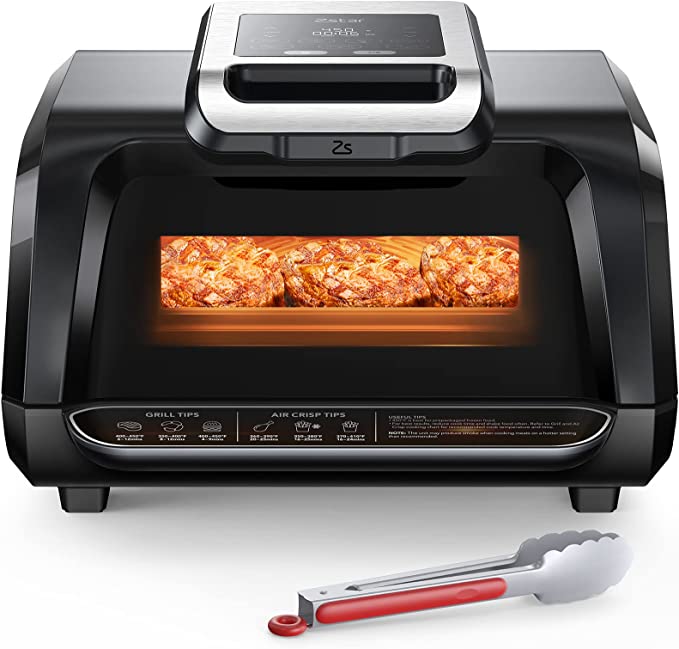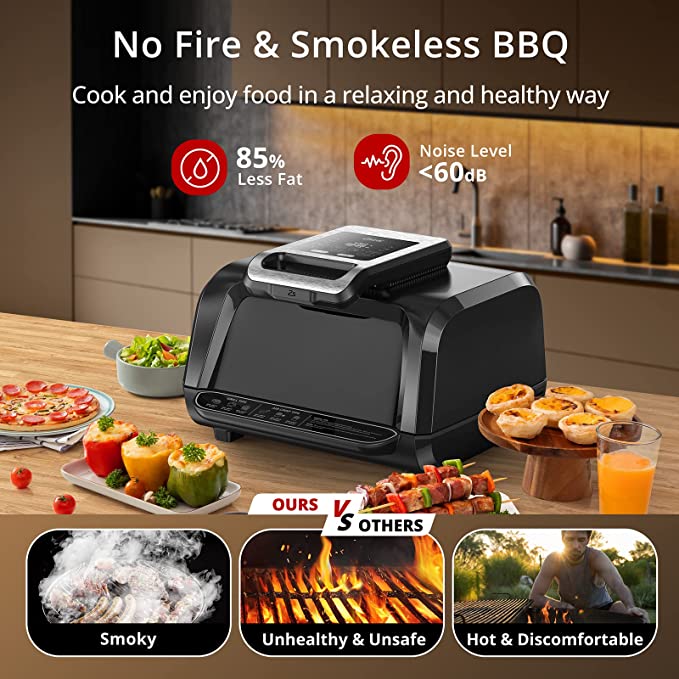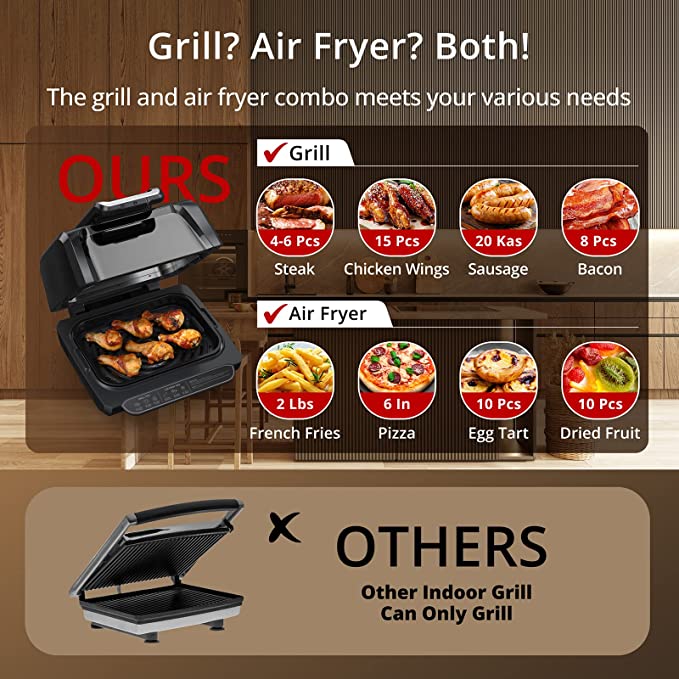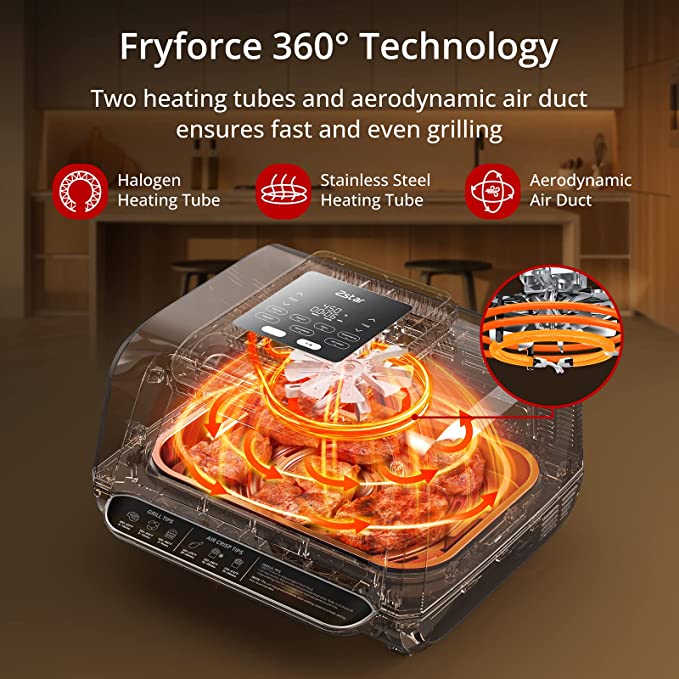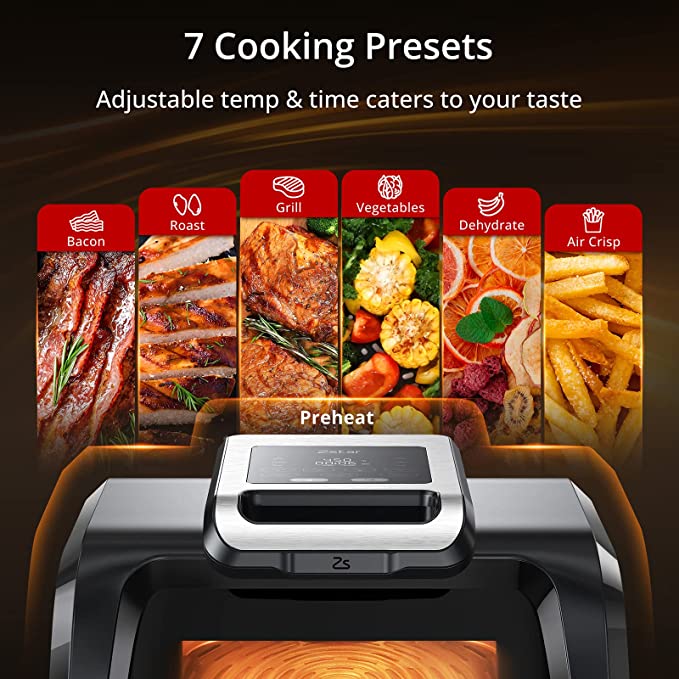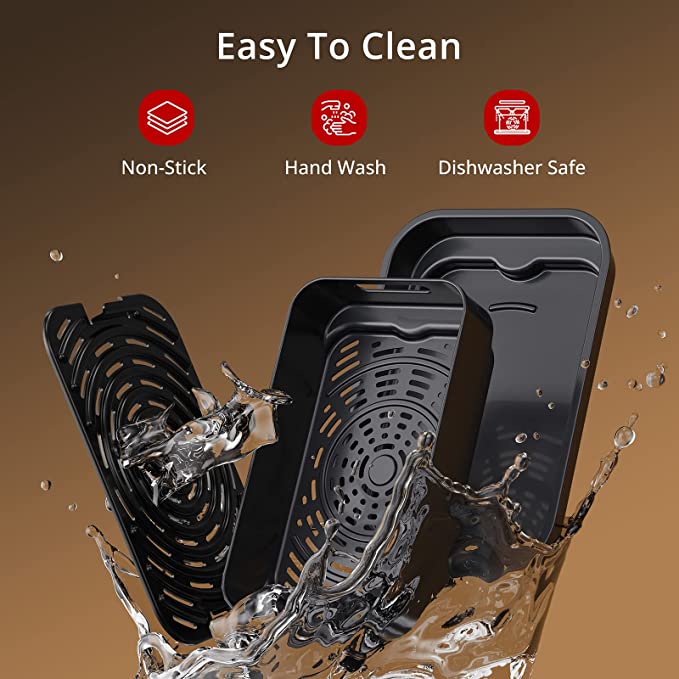 Zstar Indoor Grill Air Fryer Combo with See-Through Window
Special Feature: Silicon Tongs as Gift, Smokeless, See-Through Window, Noiseless, Fatless
Product Dimensions:14.96"D x 16.14"W x 11.02"H
Color:BLACK
Capacity:4 Quarts
Material:Stainless Steel
Lower Operation Noise
To substantially reduce noise to the ultmost, we divide-and-conquer noise from 3 levels:
The highest noise is caused by motor rotation - we use high-quality pure copper motor, and do the best matching of voltage and speed to reduce noise

Moderate noise is caused by airflow - Poor airflow design leads to relatively large noise, which affects the cooking mood. This is the problem with similar products on the market at present. In order to solve this problem, we apply upgraded fan blades to promote better air circulation effect; the heating hood and steam hole openings fully consider the direction and angle of wind convection to achieve a good exhaust system and reduce wind resistance to reduce noise.

Low noise is caused by the vibration of components and parts - 4 fixed support feet at the bottom to reduce the vibration of different parts of the air grill to reduce noise.
Cooking Tips

Zstar indoor grill air fryer combo is specially designed with grill tips, air crisp tips and cooking notices, very user-friendly

A pair of cooking tongs is also considerately included for you to pick hot items
Ergonomical Design
The digital touch screen control panel is placed on the top of the lid so that it's easy to operate as you don't need to bend over to look at it

The smokeless indoor grill is equipped with 7 presets. You can also adjust temp and time to customize your cooking as per your personal taste
Large Capacity
The electric grill comes with 4 Non-stick accessories. The grill plate can hold up to 6 steaks and the crisper basket can air fry 2 lbs of french fries. Suitable for family of 2-5 people

With the all-in-one smokeless grill, your cooking options are expanded
See-Through Window
The transparent viewing window allows you to observe cooking process without lifting the lid

Note: the light for you to monitor food will last 30-50 seconds periodically. It will not stay on